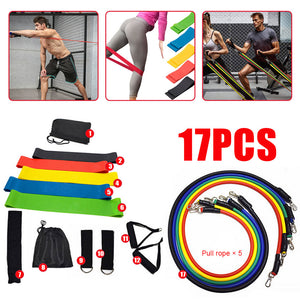 Features:
***DIVERSE TRAINING OPTIONS: 17pcs fitness bands set consists of 5 tube bands, 5 loop resistance bands, 2 cushioned handles, 1 door anchor, 2 ankle straps, 2 carry bags. With this complete workout kit, you'll never miss any chance to challenge various training difficulties for strength building and muscle toning.
***ADJUSTABLE RESISTANCE LEVELS: Each band is different in colors and resistance levels: Yellow - 10lbs, Blue - 15lbs, Red - 20lbs, Green - 25lbs, Black - 30lbs, with total resistance weight of 100lbs. You can adjust the tension intensity to achieve personal goals by applying a single band or combining multiple bands, perfect for beginners or professionals, men, women, teen or children.
***SUPERB WORKOUT EXPERIENCE: It is made of highest quality natural latex and thread count nylon, the bands are snap-resistant and capable of maintaining the maximum resistance levels even after repeated stretch and use. The cushioned handles and thick padded ankle straps provide optimal comfort and protection while doing exercise.
***EXERCISE AND REHABILITATION: Not only for daily fitness workout and burning fat, these bands are also widely used to rehabilitate people suffering from leg, knee and back injuries, helpful for recovery from MCL, ACL, knee replacement, patella, perfect choice for women who are looking to keep their bodies in shape after pregnancy and birth.
***LIGHTWEIGHT & PORTABLE: Packed in the carry bag, the whole kit weighs only 2.4lbs and easily fits into your backpack or briefcase, so you can do workout at home, gym, office or traveling.
Specifications:
Material: Latex + Nylon
Latex pull strap:latex
Hook: Iron nickel plated
Handle: NBR + PP + polyester + nickel-plated iron
Anklet: Polyester + nickel-plated iron
Door buckle: Polyester + NBR + PP
Storage bag: polyester
Tube Bands:
Length: Approx 1.2m / 4ft
Resistance: Yellow - 10lbs, Blue - 15lbs, Red - 20lbs, Green - 25lbs, Black - 30lbs
Loop Bands:
Circumference: 60cm / 23.62in
Width: 5cm / 2.0in
Resistance: Green - Extra Light (10lbs); Blue - Light (15lbs); Yellow - Medium (30lbs); Red - Heavy (35lbs);Black - Extra heavy (40lbs)
Product List:
17pcs/Set(Tension rope * 5 + Foam handle * 2 + Security door buckle * 1 + Metal tripod * 2 + 600 * 50 * 0.35MM (green, blue, yellow, red, black) latex tension ring * 5 + storage bag * 2 )
or
Tension ring * 5+Storage bag * 1