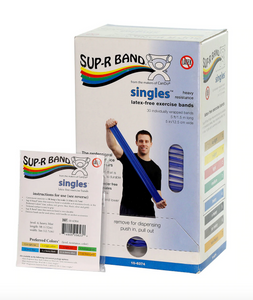 Ideal for exercising at home, The Sup-R Band is a latex-free resistance band that is used for a variety of upper and lower body exercises.
It is made of highly durable Thermoplastic Elastomer (TPE) which is comparable to the strength and performance of latex exercise bands. It effectively resists tears, bursts and punctures. It is also stretchable and requires similar force as a latex band. Each band measures 5 feet long and 5 inches in width. The textured surface is easy to grip. Color-coded in Thera-Band® colors, we offer the heavy (blue) and x-heavy (black).
*Your are ordering one resistance band, not the entire box shown in the picture.